Little Tokyo Japanese Restaurant
Steak – Sushi – Tempura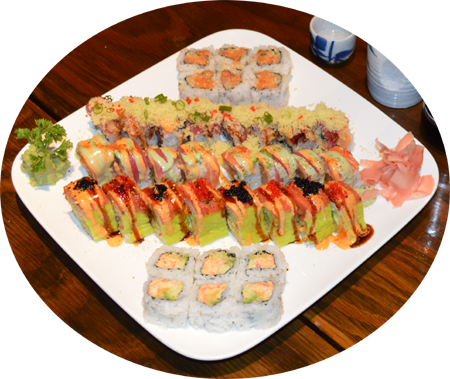 Looking for the finest Japanese restaurant in the Tri-States?  Look no further than Galena, Illinois.  Opened in 2009, Little Tokyo quickly earned its reputation for the finest Japanese food in the Midwest.  Japanese cooking is more than just raw fish, and Little Tokyo has a wide variety of menu items – most cooked – to please every palate.
Little Tokyo is home to the freshest Japanese sushi in the Midwest!  Try one of our signature rolls, always made with the freshest yellowtail, salmon and tuna.  Spicy or not, raw or cooked – we have a variety of choices on our menu, and Chef Michael crafts special rolls throughout the year.
Steak is king in the Midwest, but the Japanese also know a thing or two about beef.  Little Tokyo delivers with our signature Japanese Steak Teriyaki.   Tender Midwestern beef marinated and grilled your way: perfect every time!
You don't have to be a southerner to love fried foods, and Little Tokyo's Japanese tempura batter is made from a time-tested recipe that is sure to delight your taste buds!  Try it with shrimp, chicken, beef, or vegetable – and don't forget to dip in the authentic tempura sauce.
Conveniently located at the corner of Franklin and Main Streets in Galena, Illinois. Open Monday – Thursday 11am – 9pm, Friday and Saturday 11am – 10pm, and Sunday from 12:00pm – 9:00pm.